Working from home has many advantages, there is no need for a daily commute, you can have the flexibility of setting your own schedule and eliminate the cost of renting additional space. However, being successful in working at home requires creaating the space that will enable you to focus.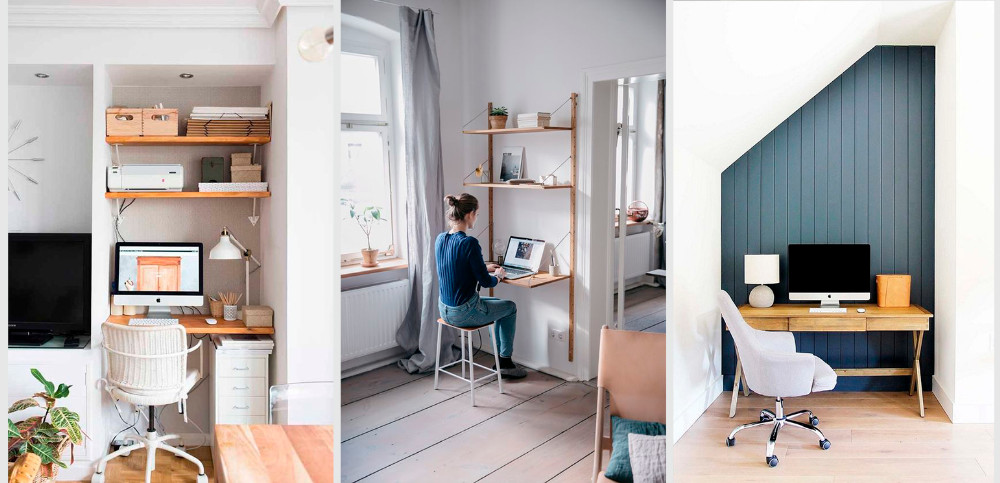 Assign the area.
Our brains associate different functions to the different parts of the apartment. In order to get a restful night's sleep, you want your brain to associate your bed with sleep and intimacy, and nothing else. If you start to merge the boundaries between work and rest, you might start having problems with falling asleep. While living in a big house, having an office in a separate room is not a biggy. However, for smaller, shared with a spouse, children, or roommates space, that can be problematic.
In this scenario creating proper zones becomes crucial. Think laterally where would be the best to insert your working nook. Is there a way to incorporate your desk between modular shelving? Look for areas that don't have much traffic, are well ventilated and have good light. Thinking outside of the four walls concept is a great small home office idea! If you have any wasted space (under stairs, large landings, hallways, kitchens or dining rooms), this could be the ideal place for your home office. Maybe you have alcoves, which are commonly underused space. Sometimes they are too small for a wardrobe, but maybe you can squeeze in a small desk there.
No one said that home offices had to be self-contained areas. You could even consider creating division by using paint, flooring or rugs to zone the different elements of the room. Zones can be created by color, lighting or chnage of the material. If you want to learn more how to create proper zoning you can check my online interior workshop here.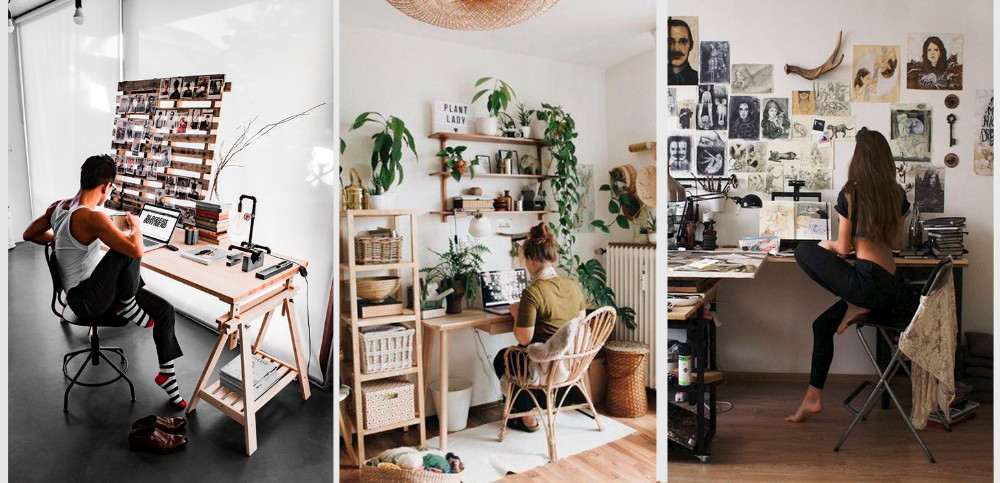 Decide what you need.
What you need will depend on the type of work you do. Who knows better than you how much space your work requires. I am mostly working on my computer but from time to time I need to deal with big plan printouts, so I need a big desk for that.
A consultant could require additional space to meet with clients or a proper headset space in a quieter part of your apartment. A photographer may need an in-home studio or storage space for props and lighting equipment. If you are an artist, for example, you may need both also a small desk for your computer and a larger table or workspace for your artwork. Plus some storage space for his tools.
Don't go for a good enough option! Spend some time planning and make a detailed list of your needs for a home office and set up a space that meets those requirements.
Consider the light.
Try to set up your home office with plenty of light for work. We all know that exposure to daylight is impacting our physical and mental well-being.
A 2017 study published by the National Sleep Foundation in its Sleep Health Journal found that people who are exposed to high levels of natural light reported better quality sleep compared to others who weren't exposed to any natural light. That's because natural light helps regulate the body's natural rhythm.
Natural light in a working space can reduce headaches and eyestrain, allowing you to be more productive on a day-to-day basis and be healthier in the long-term.
You'll do your best work if some of that includes natural light to your office area.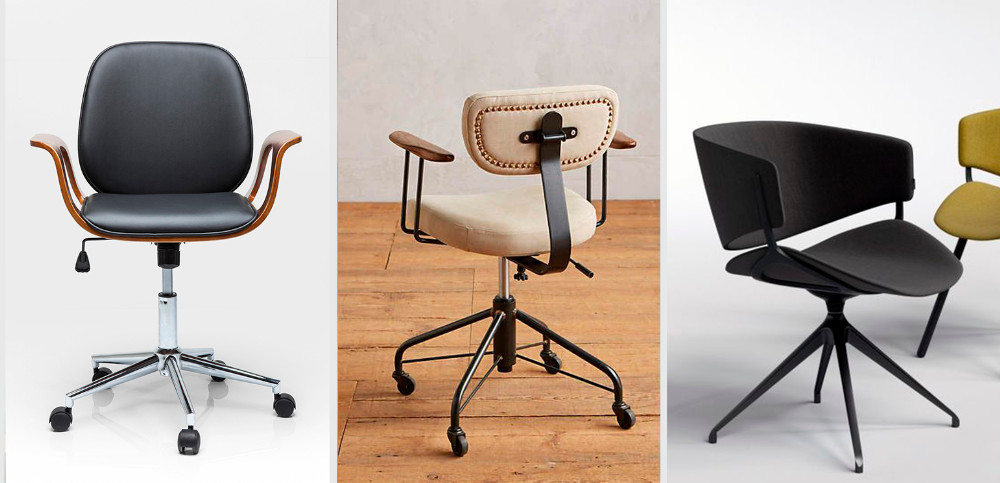 Comfortable chair.
Back issues are another risk that comes from working at home especially if you work on your computer all day. Selecting a comfortable desk chair is crucial if you want to get the most out of your work-day.
The right chair will help you maintain good posture and that will help you to stay away from aches and pains. You can save money on other home office items, but a chair isn't one of them. And as you are probably going to invest in this, look for a chair that's going to last, you don't want to have to buy a new one after a year. The important thing is to find a chair that is adjustable in multiple ways, allowing the chair to custom-fit your needs. Those kinds of chairs are built to help alleviate stress when sitting for a long period of time. They often include features like lumbar support, seat tilt, armrests and swivel.
Fewer aches and pains mean you'll be better able to concentrate on your work and get things done quickly and efficiently. And who doesn't want that?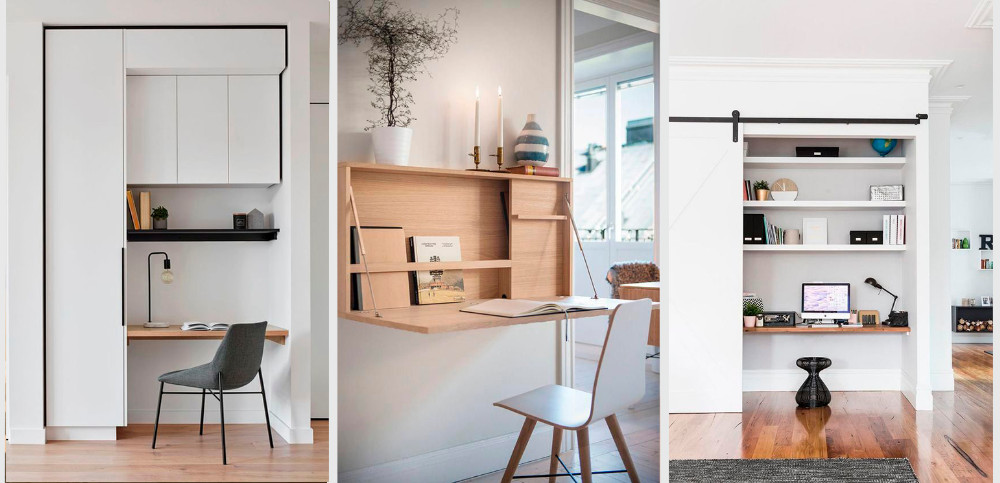 Clutter control.
Clutter is at its most distracting in the home office area and you will want to make sure that the space is as tidy as possible, with all important items easily accessible. Choose home office storage, such as shelving and smaller home office storage accessories that are functional and stylish and will encourage you to keep everything where it should be.
You may need to make space for printers, scanners and document shredders. Think about whether you want these neatly hidden away or within easy reach on a worktop.
If you don't want your small home office area to be visible all the time, you can consider what you can create behind closed doors. This hideaway approach is perfect for those who only occasionally need a home office set-up. That will be a custom option, but it will perfectly maintain the clean for those who hate clutter, or those, and will helplines of contemporary spaces.