According to the Ikea rapport from 2019, 1 out of 3 people feel more at home in places other than space they actually live in. With the global phenomenon of immigration and open borders, we move around in search of better opportunities. Sometimes we are ending up unprepared in rental spaces in unknown cities. So, how can we instantly feel more at home when settling into a new environment?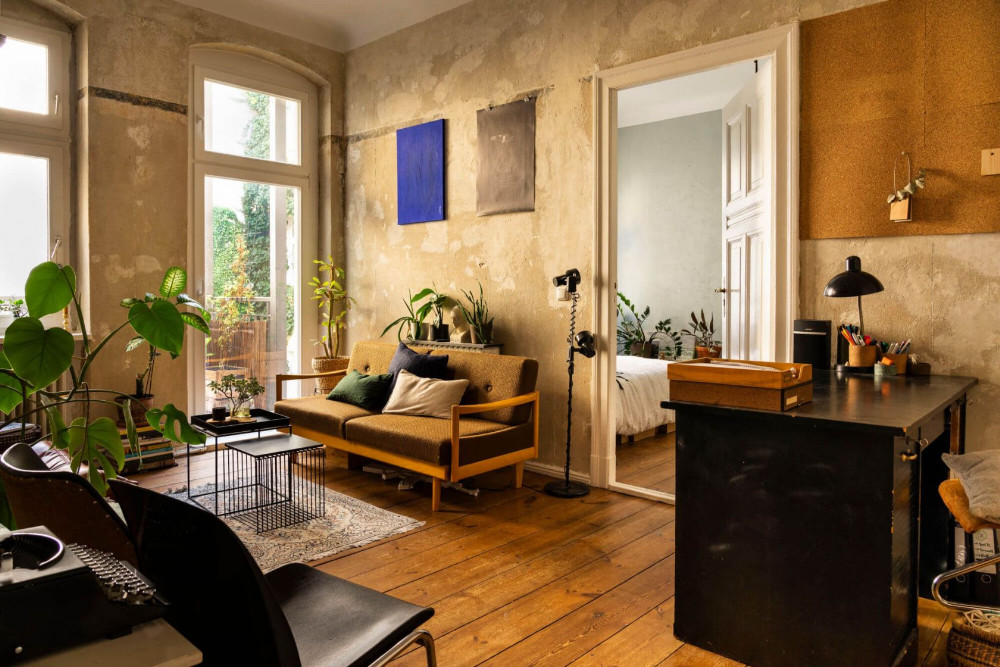 Make sure that your surroundings are a reflection of you.
I strongly believe that ownership of the space is not about whether you pay the mortgages, have your name on the lease or all the other bureaucratic stuff that comes with owning an apartment. Ownership is about having a sense of control over the interior choices of the place you live in. So how do you take control over your space? First and foremost making sure that your home is a reflection of you. How? Below are some useful tips:
Change the color of your walls. 
The most first and most obvious task you can do is to paint your walls to a colour that you love, and wouldn't mind looking at every day. I recommend to go for a colour that is pleasing and calming. Now I'm not saying avoid color altogether. Color is good, but you have to first decide where you want the attention in a room to go. If your answer is the walls, then heck, go bold. And if you go bold on the walls everything else in the room should be pretty neutral so that you don't end up with too many things competing. Painting your walls is one of the most transformative things you can do to your space that will cost you little to no effort at all.

Invest in cosy textiles. 
Changing the fabric elements in your room — like accent pillows and throw blankets — is a simple and effective way to make your home cozy. Choosing good textiles enables your space to feel and look more cozy. Natural soft textiles, such as cotton, fur, wool, velvet as well as comfortable looking rugs are key elements in creating a beautiful nest that you can rest in. Who doesn't like to put feet on the cosy carpet or hide under a soft blanket? 

Don't underestimate the power of accessories. 
Don't underestimate the power of accessories, sometimes only this change can transform the look and feel of a space. While larger furniture pieces can serve as a main focal point in your space, accessories can add to the overall atmosphere. The smallest details are able to compose the overall mood of the room. Don't be afraid to get personal and select the items that best describe you and your lifestyle. Implementing your personality into space can be done by adding books, vinyl, plants or ceramics that you love looking at…the possibilities are endless! 
You can photographs or other types of memorabilia that are familiar to you. Expressing yourself through your past is a great way for anyone to understand who you really are and what kinds of things have shaped you to become the person you are today. After all, you are designing your own space, so make it all about you.
Live life like the little things are the big things. 
Sometimes in rental spaces, we don't have much freedom. However, it's also worth noting that the smallest details make a huge difference, so changing up a couple of things such as power sockets, door handles or the hooks on the walls can be implemented in order to suit the overall aesthetic. Clever interior design observes not only the main features of a space but the tiny things too. 

Surround yourself with the right people.
To feel at home is not necessarily tied in with your apartment alone, it also depends on the type of company you surround yourself with. Living with others means having different perspectives for standards of living, so being in a WG can either be a great adventure or your absolute worst nightmare. We've all heard those horror stories from friends who have lived in WGs. When choosing flatmates we usually take note of the fact how we get along. However, it is also important to check if we value the same kinds of things when it comes to cleaning or sharing household costs.
Your personal and social life is extremely important to your overall well-being, and if you're living in a new city, maintaining positive relationships and investing time in your hobbies can shape your experiences to a certain place. Keep up with social events, join a sports club or attend creative workshops. Integrating into a new environment can be quite hard, but making that extra effort with your social life can definitely be worth it.