Unfortunately, when we are moving into the dorm, we can not pick the furniture that we want or paint the walls in our favourite colour. Generic student dorm rooms can be repelling. Is there a simple way to domesticate unappealing places? In this article, I will visit and interview Ivis, colourful soul from Venezuela, which came to Berlin to study human rights and have asked me to help her to feel at home in her dorm room.
interview
Tell me a little bit about you. My name is Ivis and I came to Berlin about a year ago. When I first moved out from home I went to Malta, where I have been living and working for a while. Unfortunately, time was passing fast and my visa was about to end, I was pretty sure that I wanted to stay in longer Europe. Hence I started to look for master programs that would help to extend my visa and I was lucky to found the perfect one in Berlin. I did not hesitate much and this is how I end up living here. Last year I was mainly studying, especially that very passionate about my masters and I love to explore topics such as racism, women and LGBT rights, this year I would like to balance it a bit more and find more time to hang out with my friends.
Do you think that Berlin is tolerant?  At the first glance – yes, it is a special city, where so many cultures living together in harmony, but the longer I have been living here, the more I notice situations, which aren't that funny. Before coming here I had been warned a couple of times, that as I will be living in the east part unpleasant situations might happen. Personally, I haven't face up to a really dangerous situation, just once a really drunk guy was being rude to me and my friends only because we were speaking English instead of German. I was shocked and pretty scared at the same time, he was very drunk and you never know how things can escalate.
What do you like in Berlin and what is your favourite place?  Ah! I love Berlin! It has this urban vibe, but at the same time each district is different and have their own community. For me going through the city is like travelling through the time, you can easily see the history of the city just by looking at the different types of buildings.
Berlin is my favourite city that I have been living so far and it has changed me a lot. It has changed the way I look and the way I am now, before coming here I had a really long hair, in Venezuela, there are ridicules beauty standards, every girl has to look nice and be polished from head to toe. No exceptions. In Berlin, I have learned that there isn't one type of beauty and even ugly things can be beautiful and that is okay to not to be perfect. That was one of the reasons that I decided to shave my hair. I also love the feeling of community, that you can find here. People are open, like to meet new people, share advice or things. I got a couple of furniture from the street, some people just left them for others. Even you! In the way, I got you from the street too. Hahaha.
As for the particular place I love Mano bar in Kreuzberg! It's my favourite place ever, I can spend there hours reading books. As well there is a bridge next to Maybachufer I don't know its name (red: Admiralbruecke), I am calling it a pedestrian bridge, where people just sit and drinking beers or read. In the beginning, I thought it's pedestrian only, but then I saw a car slowly going between people. I was in shock at first, but I love that freedom of Berliners, that every place is good to sit and read a book.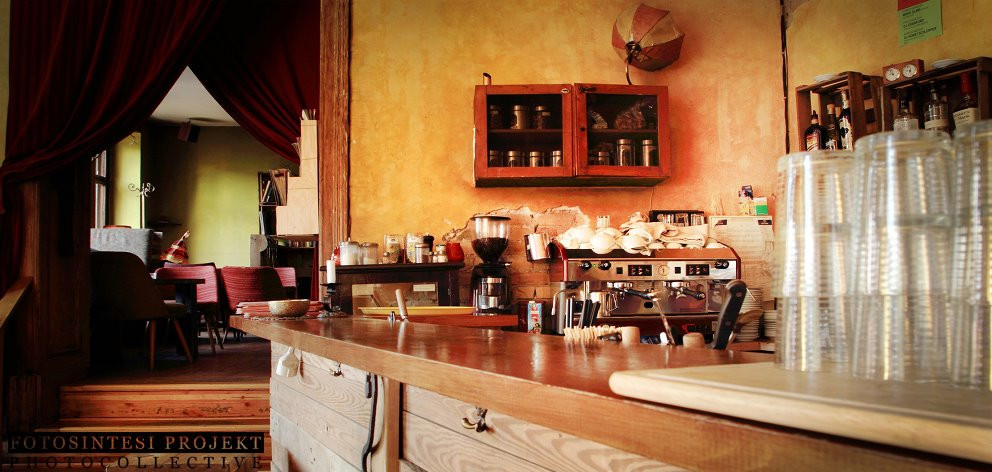 "Home for me is a place, where I can feel safe, comfortable and where I can relax without being disturbed. It's also the place where I set up the rules."
What does home mean to you? Hmm, that is a hard one. Of course, at first my thoughts are taking me to my family home, but since I haven't been living there for such a long time, I don't feel fully at home there anymore. It's more my mum's house than mine and I have adapted to her rules when I coming back. I think at the moment I don't have the home, I am forcing this place to be my home, but isn't so easy to call this way your dormitory room. In general home for me is a place, where I can feel safe, comfortable, where I can relax without being disturbed. It's also the place where I set up the rules.
If you would have to move out and you could take only one object from your apartment what would be?  Well, I am free spirit I don't like to be tight to anything. I would leave everything behind.
If you would have an open budget what house would you build? I adore big white spaces with huge windows and white curtains, buildings that are spacious and full of the light, I am convinced that you should build your house in the way that you don't have turn on the light during the day. I am not so much into an ornament, I love simple geometric forms. I can show you my favourite house in Venezuela. It is called Quinta el Cerrito Villa Planchart made in 50ties in modernistic style, huge openings almost without walls. I wish my house looks like this.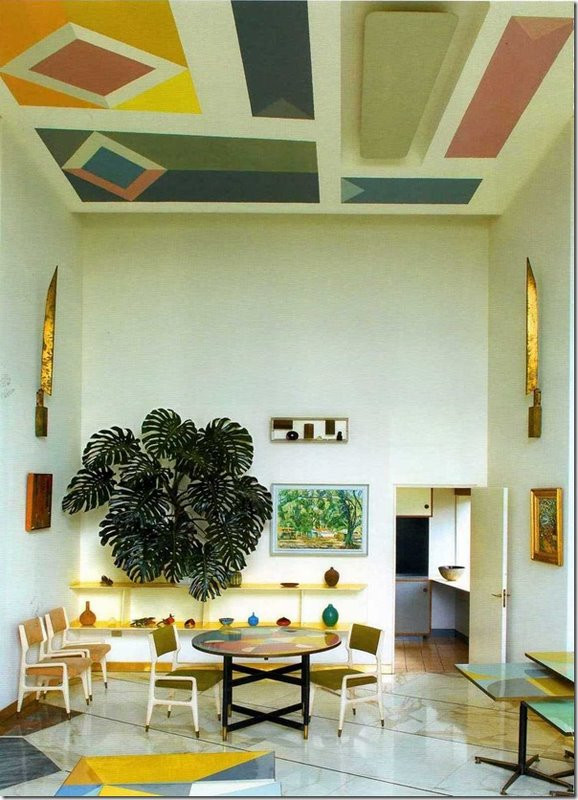 design problem
Ivis doesn't feel comfortable in her dormitory room. Well… to be honest, I am not surprised, her space is very small and additionally, all furniture and floor are finished with dark blue laminate, which makes this place seem to be even smaller. Quite often Ivis has guests, so she got an extra sofa, to be able to host them, but the room is too small and now she has to jump over it to get to the cupboard. In this post over I will focus on two the things, first on rearranging the furniture in the more functional way that she will have an free access to all furniture, (no more jumping over the sofa! ) and secondly I will add a bit of style to the place to  Ivis personality.
Ivis showed has shown to me her favourite house  Villa Planchart design and build by Gio Ponti in Caracas 1953-37 and I really loved it. It has served me as inspiration for her room, in the design I will use a similar set of geometrical patterns and combine them with colourful elements. In the room there is a lot of dark blue colour, so we need to balance it with brighter colours, to do so I will use yellow, white and mix it with pink and black.
There is no space to fit new furniture, but we can create a cosy feeling by adding more textiles. It seems as very simple advice, but believe me, right textiles can drastically change the room. Only by adding bed covers, pillows, curtains and carpet will make the room looks better.  Long white and yellow curtains will create the impression that the room is bigger. Colourful textiles set up with black and white geometric patterns will add a playfulnesses and expose Ivis personality, colourful shelves will cheer up the gloomy room. I have based my design on IKEA furniture and accessories but they can be replaced with similar looking cheaper versions.